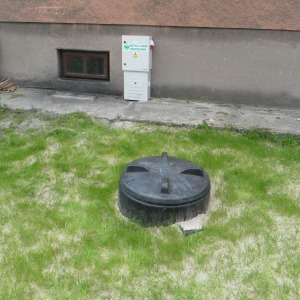 Purpose of home sewage pumping stations
Household sewage pumping stations of the METALCHEM-WARSZAWA type, abbreviated to PDM, are intended for the disposal of domestic and sewage sewage, drainage or rainwater from individual residential buildings, utility buildings or small housing associations. They are mainly used to service farms lying far away from the main sewage network or places preventing the use of gravitational drain. PDM is divided into one and two pump systems built in Ø800mm and Ø1000mm tanks. PDM can also be used as drainage for garages, properties or as temporary pumping stations. Lightweight and compact design, allows quick installation on site and does not require special effort or machinery (cranes, excavators). Two or three people are enough to move depending on the tank size.

Due to small inflows of sewage, designers often choose systems with thin pressure pipes, guided by the theoretical parameters of the pumping station operation. This involves the use of pumps with small passages and generating high pressure. Household pumping stations designed in such a way are characterized by really low efficiency and high operating costs. Pumps with small passages and / or disintegration devices often get clogged. The consequence of this are downtime (failures) of the pumping station, significant costs of servicing the pumps and cleaning the pumping station by specialized units.
Types of PDM we offer
In our pumping stations we use diameters of internal pipelines not smaller than Dn50 and outlet from PE63 pumping stations or larger. We also prefer pumps with 50mm free passage under the impeller. The only justified case of using pumps with a grinder and a small outlet is a pumping station intended only for a single house (family). This is connected with taking responsibility for the garbage thrown into the sewage system. For two or more users, it is usually difficult to determine who is guilty in throwing waste into the sewage system, and the costs involved can be significant.
In our pumping stations we use two pump fastening systems: on the hook coupling and on the coupling elbow Dn50. Both systems allow easy removal of the pump in case of failure and flooding of the pumping station. The KS50 coupling elbow system and two guides are particularly recommended, because even with a completely flooded pumping station, it is very easy to remove and lower the pump.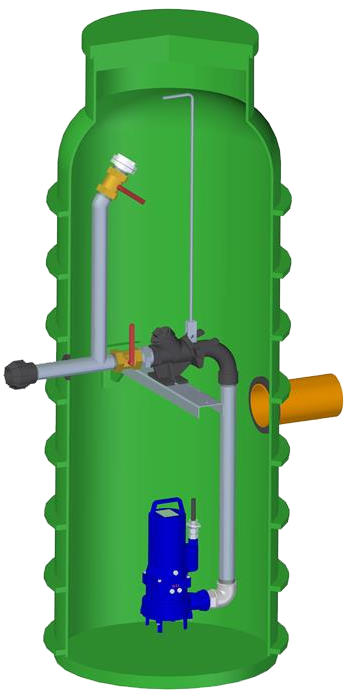 Typical PDM equipment:
Tank made of PEHD (polyethylene) or KBZ (concrete rings),
Pump – one or two with possible configuration:
– one or three-phase,
– with free passage or with a crushing device,
Shut-off fittings and fittings Dn50,
Inlet connector from PVC110 to PVC200,
Control:
– built-in float pump (in one-pump),
– supply and control switchgear, cooperating with independent floats.


Basic PDM parameters:
Tank made of polyethylene with diameter Ø800 or Ø1000 and height from 1.8m to 4.5m,
Pump lift height for a capacity of 100l / min. from 8 to 70m,
Diameter of the DN50 fitting + flushing attachment with fireman's connector,
Pump power up to 0.75kW up to 4.0kW,
230V or 400V supply voltage,
Lowering and removing pumps without going down to the tank,
When pulling out the pump, the ball check valve prevents backflow of sewage,
The ball valves can be closed without entering the tank.