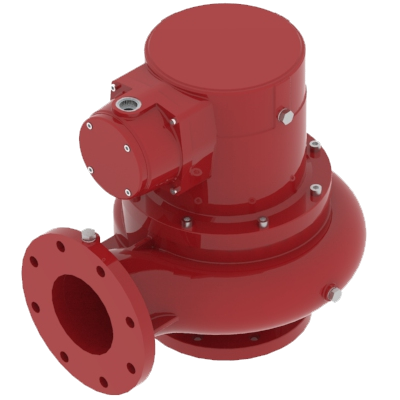 Purpose of transformer oil pumps
Hermetyczne pompy wirowe typu CTR przeznaczone są do wymuszania cyrkulacji oleju transformatorowego przez chłodnicę oleju dużych transformatorów energetycznych oraz mogą być wykorzystywane jako pompy cyrkulacyjne w układzie ogrzewania pomieszczeń stacji energetycznych ciepłem zawartym w oleju transformatorowym.












Construction of CTR pumps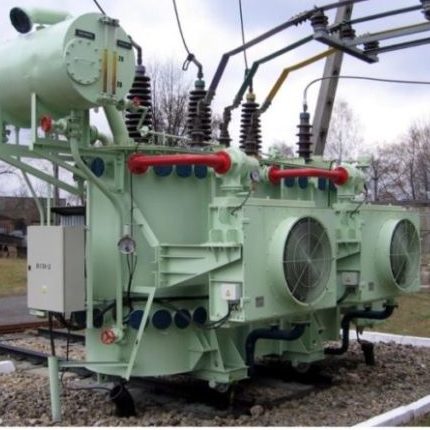 Pompa CTR posiada budowę bezdławicową i stanowi hermetyczny monoblok zawierający w sobie pompę wirową tzw. mokry silnik elektryczny.
Korpus pompy i kadłub silnika wewnątrz których na wspólnym wale znajduje się wirnik pompy oraz wirnik silnika połączone są poprzez pokrywę łożyskową. Wał ułożyskowany jest w łożyskach tocznych, z których przednie umieszczone jest w pokrywie łożyskowej.
Wszystkie połączenia elementów pompy i silnika uszczelnione są oringami wykonanymi z gumy olejoodpornej.
Dzięki układowi otworów w pokrywie łożyskowej oraz kanałom w wałku następuje w pompie wewnętrzny obieg pompowanego oleju w efekcie czego uzyskuje się chłodzenie silnika, smarowanie łożysk oraz zredukowanie do minimum siły osiowej w łożyskach. Przestrzeń skrzynki zaciskowej jest oddzielona od przestrzeni silnika uszczelnioną płytą zaciskową, przez którą przechodzą również uszczelnione kołki zaciskowe doprowadzające napięcie do uzwojeń stojana silnika.
Doprowadzenie energii elektrycznej do skrzynki zaciskowej następuje poprzez szczelny dławik kablowy.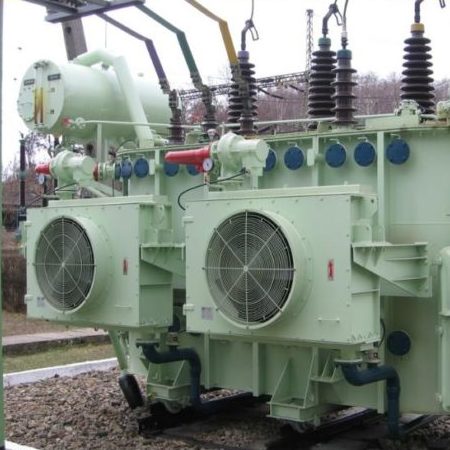 Advantages of CTR pumps
CTR pumps do not require additional engine cooling.
They also have the ability to self-vent during work.
However, if due to the pump system there is a need for additional venting before starting the pump, this can be done by means of vent plugs.
Pompa przystosowana jest do bezpośredniego umocowania na rurociągach.
It should be fixed so that the terminal box is in the lower position. The design of the pump enables the position of the connection stubs so that this condition is met. Adjusting the position of the discharge nozzle relative to the box is possible every 45º
W czasie transportu i składowania wymagane jest szczelne zaślepienie króćców pompy zaślepkami. Ponieważ pompowany olej jest jednocześnie czynnikiem chłodząco-smarującym w silniku, wymagana jest jego bezwzględna czystość.




At present, we manufacture pumps of the following sizes:
CTR-125-5.5 with a 5.5 kW motor
CTR-125-5,5A with a 5.5 kW motor
CTR-100-3 z silnikiem o mocy 3kW




Drawings and dimensions of CTR pumps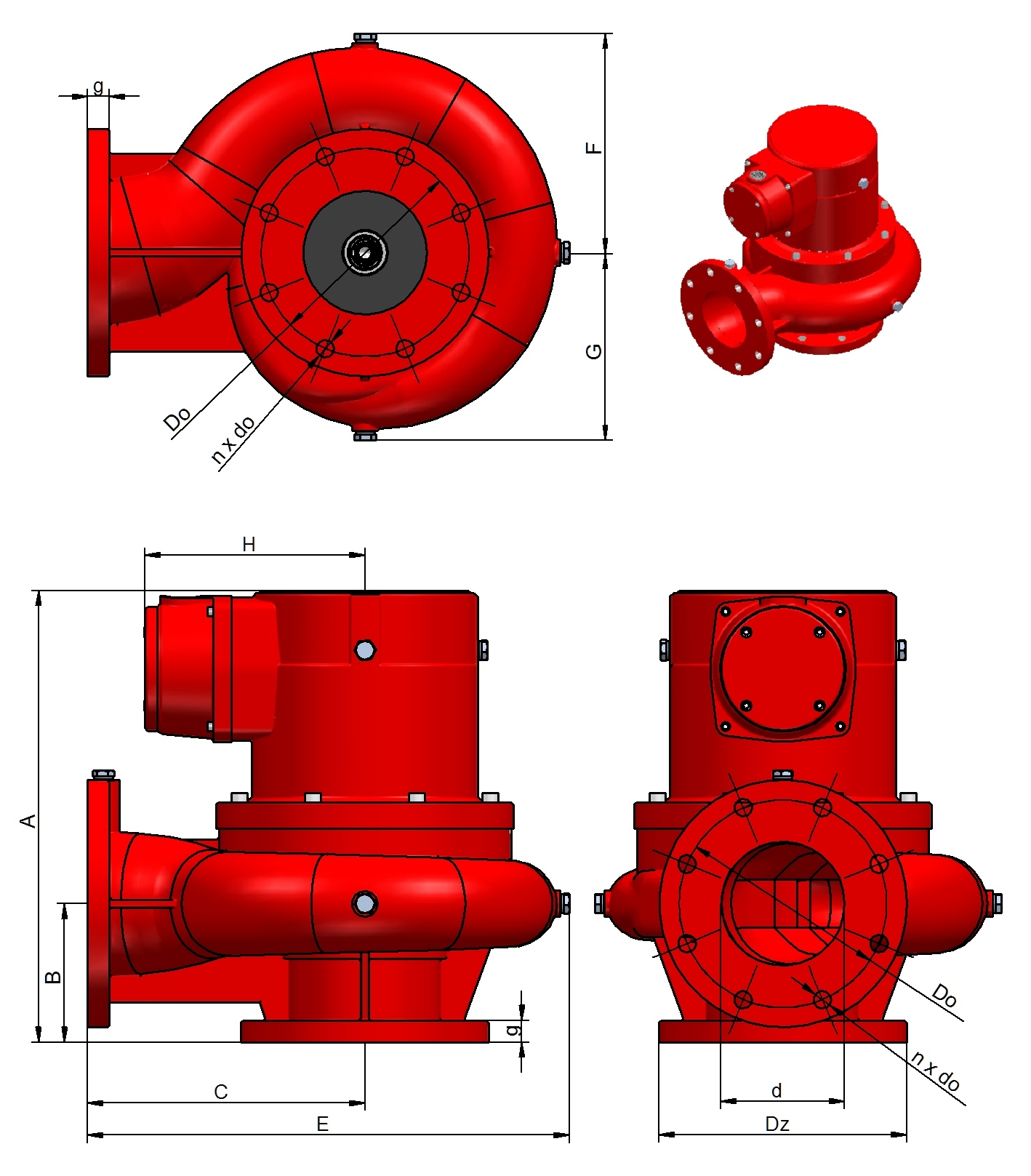 Pumps type

Pump dimension

[mm]
Dimensions of connectors
Weight
indication
A
B
C
E
F
G
H
d
Dz
Do
g
Ø
n
kg
CTR-125-5,5
470
140
280
480
220
190
222
125
250
210
22
18
8
135
CTR-125-5,5A
470
140
280
480
220
190
222
125
250
210
22
18
8
133
CTR-100-3
460
125
220
390
180
150
194
100
210
170
20
18
4
90
Working parameters of CTR pumps
| | | | | |
| --- | --- | --- | --- | --- |
| Working paratemers | Unit | CTR-125-5,5 | CTR-125-5,5A | CTR-100-3 |
| Flow | Q [m³/h] | 100 | 100 | 45 |
| Head | H [m] | 12 | 8 | 13 |
| Power | P [kW] | 5,5 | 5,5 | 3 |
| Speed rotation | N [rpm] | 1450 | 1450 | 1420 |
| Voltage rated | U [V] | 400/500* | 400/500* | 400/500* |
| Current rated | I [A] | 12,1/9,2 | 12,1/9,2 | 7,3/5,4 |
* Special edition
Download